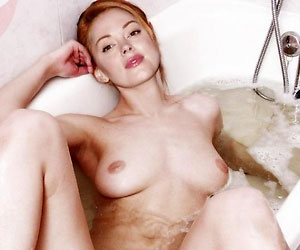 Rose McGowan nude art film
Name:
Rose McGowan
Place Of Birth:
Florence, Italy
Date Of Birth:
5 September 1973
Claim To Fame:
Curvy, vampish actress Rose McGowan was actually born in Italy, to American parents who were involved in a religious cult called Children of God. Rose was 10 before she and her family left Italy for the USA. She did some modelling as a child in Italy, but fame came after she drifted to Los Angeles in her late teens. She was cast after a chance meeting in The Doom Generation and more directors soon came calling after. Roles in hits like Scream and Jawbreaker followed, plus a six year run in the TV series Charmed from 2001-2006. A four year long relationship with shock rocker Marilyn Manson brought her even wider recognition.
Nudity Rating:
Rose McGowan has not been shy to reveal her full-breasted figure either on film or in some of her outrageous choices of fashion down the years. We award a healthy 8 out of 10 on the nudometer.