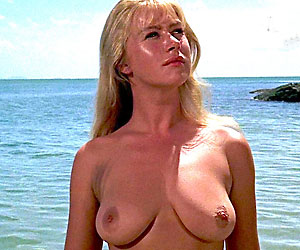 Actress Helen Mirren bares all
Name:
Dame Helen Mirren
Birth Name:
Ilyena Lydia Mironoff
Place Of Birth:
Hammersmith, London
Date Of Birth:
26 July 1945
Measurements:
37-27-38C
Claim To Fame:
Dame Helen Mirren has the quintessential image of some very posh British totty. The London born, Oscar winning actress is actually of Russian aristocratic stock, however. Her family fled to England after the Russian Revolution in 1917. She started classical acting training at an early age and was already a star of the London stage by her teens. She has gone on to become one of the biggest names of screen and stage. Her movie hits include The Queen, Calendar Girls, Woman In Gold, RED 2, Hitchcock and The Madness Of King George. She also picked up a string of awards for her long-running television drama Prime Suspect.
Nudity Rating:
Dame Helen was once given the nickname 'Shakespeare's Slut' as tribute both to her classical acting skills and very liberal attitude to nudity. She has shown off her awesome body in many roles and earns a right royal 9 out of 10 on the old nudometer.