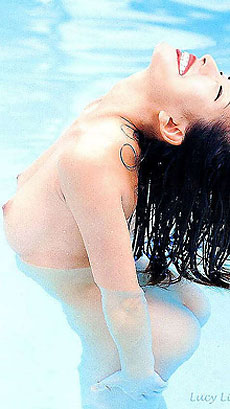 Lucy Liu sexy topless posing
Name:
Lucy Liu
Place Of Birth:
Jackson Heights, New York
Date Of Birth:
2 December 1968
Claim To Fame:
Lucy Liu is probably the most successful asian-american actress ever at breaking the shackles of ethnic casting. She's reached the stage in her career where she can go for any part and earn multi-millions doing it. The daughter of educated Chinese immigrants, born and raised in New York, she got the acting bug studying at the University of Michigan. She headed to Los Angeles upon graduation, working as a waitress between auditions. Her big break came in 1997 with Ally McBeal. She was eventually cast as the long-running character of cantankerous lawyer Ling Woo. A hugely successful movie career has followed with parts in the likes of Charlie's Angels, Kill Bill: Vol 1 and Elementary.
Nudity Rating:
On the rare occasions Lucy Liu has bared skin, it's plain to see she keeps her tight little body in tip top condition. Seven out of 10 for Ms. Liu.