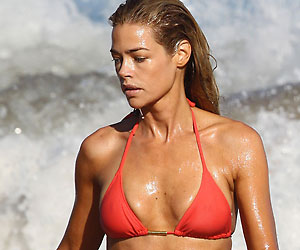 Sexy actress Denise Richards
Name:
Denise Richards
Place Of Birth:
Downers Grove, Illinois
Date Of Birth:
17 February 1971
Measurements:
37-24-34C
Claim To Fame:
These days Denise Richards is mostly known for her occasional TV appearances, but in the nineties and early noughties this former cheerleader and model was one of Hollywood's most lusted after stars. She hit the big time after her breakthrough role in the high octane monster flick Starship Troopers. It was quickly followed by her steaming up the screens in the box office hit Wild Things and saw Denise become a Bond Girl in The World Is Not Enough just a year later. In 2003, she appeared in Scary Movie 3 alongside her ex-husband Charlie Sheen. The former celebrity couple have two children, who Denise has custody of and has spent time away from full-time acting bringing up.
Nudity Rating:
The old nudometer is frantically twitching between 8 and 9 out of ten. Denise Richards has bared her awesome busty figure both for photographers and movie audiences, but we could take a whole lot more!